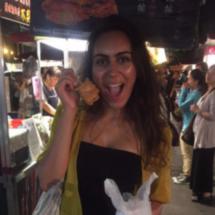 Disha Patel
---
Product Manager
About
Hey!

I'm Disha, a freelance Product manager & Strategy Consultant who has spent the last 4 months traveling, eating and finding out all about what's exciting in tech in Asia.

I'm now looking for my next full-time role with a VC fund/accelerator/a start-up who is looking for someone tenacious, adaptable and ready to get stuck in to help scale their business(es) and help create great user experiences and smart back-end functionality. I have experience working with web and mobile applications in the recycling/logistics/ecommerce spaces but am especially interested in using tech for good.

In my free time I learn about astronomy, bake cakes, swim, think about cake and get involved with the local tech ecosystem.

Currently in Singapore.

Interested? Get in touch!
Contact
I'm a visual creature, so my preferred form of communication is snapchat. You can reach me on disha-p. However, for the more traditionalists/instagram diehards amongst you:
+6593759135
+447514819901
disha.p@protonmail.com

Made in India -- Born in London -- Studied in Dublin -- Believes the future is Asia